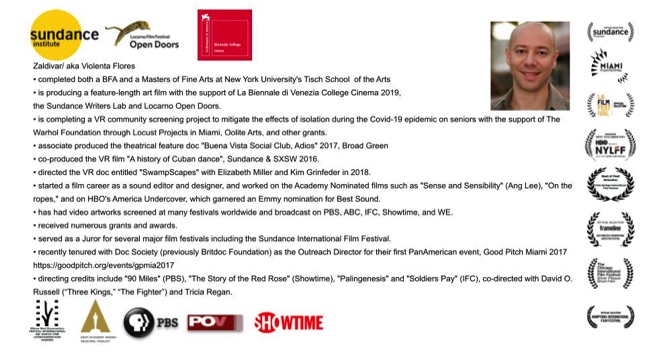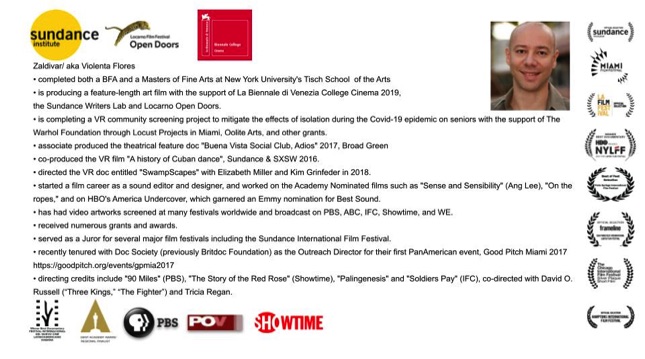 Juan Carlos Zaldivar/ aka Violenta Flores
• completed both a BFA and a Masters of Fine Arts at New York University's Tisch School of the Arts
• is producing a feature-length art film with the support of La Biennale di Venezia College Cinema 2019, the Sundance Writers Lab and Locarno Open Doors.
• is completing a VR community screening project to mitigate the effects of isolation during the Covid-19 epidemic on seniors with the support of The Warhol Foundation through Locust Projects in Miami, Oolite Arts, and other grants.
• associate produced the theatrical feature doc "Buena Vista Social Club, Adios" 2017, Broad Green.
• co-produced the VR film "A history of Cuban dance", Sundance & SXSW 2016.
• co-directed the VR doc entitled "SwampScapes" with Elizabeth Miller and Kim Grinfeder in 2018.
• started a film career as a sound editor and designer, and worked on the Academy Nominated films such as "Sense and Sensibility" (Ang Lee), "On the Ropes," and on HBO's America Undercover, which garnered an Emmy nomination for Best Sound.
• has had video artworks screened at many festivals worldwide and broadcast on PBS, ABC, IFC, Showtime, and WE.
• received numerous grants and awards.
• served as a Juror for several major film festivals including the Sundance International Film Festival.
• recently tenured with Doc Society (previously Britdoc Foundation) as the Outreach Director for their first PanAmerican event, Good Pitch Miami 2017
https://goodprtch.org/events/gpmia2017
• directing credits include "90 Miles" (PBS), "The Story of the Red Rose" (Showtime), "Palingenesis" and "Soldiers Pay'" (tFC), co-directed with David 0. Russell and Tricia Regan.