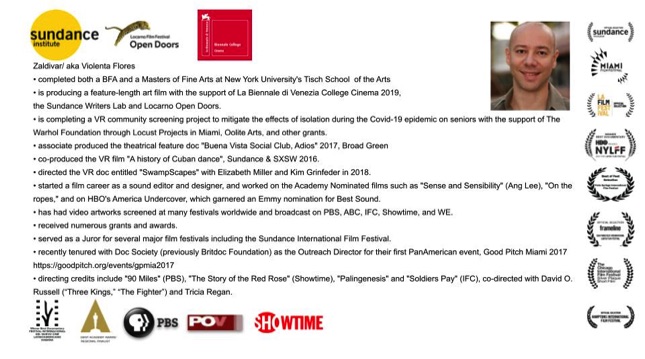 "Strikingly original"
-Variety Magazine
"Probing and thoughtful"
-Eugene Hernandez, Indiewire
"With all the elements of an epic poem"
-Charles Cotayo, El Nuevo Herald
"Much like Alice of Wonderland fame, who had seen a cat without a smile but never a smile without a cat, I have imagined bodies without senses, but never senses without a body. Juan Carlos Zaldivar's installation Shifting Nature, however, asked me to do exactly that."
-Rachel Luria, PhD Media Philosophy,
Florida Atlantic University, Shifting Nature Catalogue
"You might say Juan Carlos Zaldivar is a master of reality. When you enter one of his exhibits ... the outside world suddenly seems very far away."
-Carlos Suarez de Jesús, The Miami New Times
"Delicate work ... that of an alchemist, transforming the ordinary. "
-Susan Hopper, Deluxe Arts
"In filmmaker and video artist Juan Carlos Zaldivar's Shifting Nature: Hesperus is Phosphorus, the meaning of the art work shifts as you interact with it."
-Mia Leonin, Miami Herald
SELECTED AWARDS TIMELINE:
2022 Announcing Gotham Media Market Official Selection, NY
2021 Podcast "No Longer Staying Quiet (Calladitas Nunca Más)" by feminist
Mexican journalist Inger Díaz Barriga, was awarded the King of Spain International
Journalism Prize for Culture and Social Development
2021 Lea Aquí, meet the new residency artists at The Betsy Hotel Writer's Room, Miami Beach
2019 La Bie nnale Cinema College Announces Selected International Projects
2018 SwampScapes wins Best Virtual Reality (SwampScapes) at the Tacoma Film Festival
2019 SwampScapes receives a Climate Story Lab Outreach Impact Grant from Doc Society
2017 Zaldívar selected for a peer review laboratory by Rhizomatic Arts in Los Angeles
to develop a performance @ The Hammer Museum through their open process program
2017 "The Cabaret of Violenta Flores" receivs a Commissioned artist grant by the Miami Light Project for their Here and Now Festival.
2014 Zaldívar selected among commissioned artists at The Miami Light Project
2015 Zaldivar receives a grant recipient of the Robert Giard Film Fellowship through CLAGS
2015 Miami New Times Mastermind Award, (honorable mention)
2015 Bas Fisher Invitational, Shifting Nature: Web Bodies, (artist in residence)
2014 Here and Now commission with Knight Foundation's Emerging Artist Grant (commission grantee)
2014 Queens World Film Festival Best LGBTQ Short (winner)
2014 Bas Fisher Invitational (artist in residence)
2013 LAP Punic Art Award, Urban Screen project, Basilicata Region, Italy (Spenser Tunick presided the Jury) (winner)
2013 Knight Foundation Arts Challenge, Miami Filmmakers Collective (grantee)
2013 Jury Prize, Museum of Contemporary Art, North Miami (MOCA NOMI) winner)
2013 Audience Award, Museum of Contemporary Art, North Miami (MOCA NOMI) (winner)
2012 Museum of Contemporary Art (MOCA), North Miami permanent collection (acquisition)
2012 Creative Capital Advanced Professional Artist Development Program, by the Warhol Foundation and State of Florida Department of State, Div. of Cultural Affairs (grantee)
2011 Golden Reel for dialogue editing (Academy Awards™ winner Sense and Sensibility)
(winner)
2010 Optic Nerve film/video art competition, Museum of Contemporary Art, North Miami
(MOCA- NOMI) (featured artist)
2010 New Work Miami: Video 2010, Miami Art Museum (MAM), (winner)
2010 New Media Production Fund, LPB (grantee)
2010 New Media Institute Fellowship from the Corporation for Public Broadcasting through the Black Filmmakers Consortia (grantee)
2010 Creative Capital Professional Artist Development Program, sponsored by the Warhol Foundation and State of Florida Department of State, Div. of Cultural Affairs (grantee)
2010 Jennylin Duany Light Bulb Fund, Miami Light Project (grantee)
2009 State of Florida individual Artist Fellowship
2009 Miami-Dade County Department of Cultural Affairs Artist Access Grant (grantee)
2009 Film Production grant from The Flicker Point Fund at the Dade Community Foundation (grantee)
2009 Film Production grant from Lucius and Eva Eastman Fund (grantee)
2009 Robert Flaherty Film Seminar, International Film Seminars, New York (fellow)
2008 Performance grant from FunArte through Sleepless Miami Beach Arts Festival (grantee)
2008 New Media Institute Fellowship from the Corporation for Public Broadcasting through the Black Filmmakers Consortia (grantee)
2008 Miami-Dade County Department of Cultural Affairs Artist Access Grant (grantee)
2008 Film Production grant from Lucius and Eva Eastman Fund (grantee)
2008 Film Production Development Grant Latino Public Broadcasting (grantee)
2008 Robert Flaherty Film Seminar, International Film Seminars, New York (fellow)
2007 Robert Flaherty Film Seminar, South of the other, New York (featured artist)
2006 Turtle Salon, The Tate Gallery, London (featured artist)
2005 City of Miami Beach Program (The Florida room Documentary Film Festival, grantee)
2004 Lucius and Eva Eastman Grant (grant, Marti and I) (commission grantee)
2004 City of Miami Beach Program (The Florida room Documentary Film Festival, grantee)
2003 Locarno Open Doors International Financing Market (featured project)
2003 City of Miami Beach Program (The Florida room Documentary Film Festival, grantee)
2002 City of Miami Beach Program (The Florida room Documentary Film Festival, grantee)
2001 Winner Memoria Award, Festival Internacional del Nuevo Cine Latinoamericano,
Havana, Cuba (90 Miles) (winner)
2001 Best Documentary, Black Coral Award, Festival Internacional del Nuevo Cine
Latinoamericano, Havana, Cuba (90 Miles) (winner)
2001 Wolfson Media History Award, Miami FL (90 Miles) (winner)
2001 Best Documentary, New York Latino Film Festival, NY (90 Miles) (winner)
2000 Silver Plaque Award, Chicago International Film Festival (The Story of The Red Rose) (winner)
1999 POV Diverse Voices Awards (PBS acquisition grant, 90 Miles) (winner)
1999 New York State Council for the Arts NYSCA Fellowship Award (grantee)
1999 McArthur Foundation, Cuban Artist Fund Award (fellow, grantee)
1999 Jerome Foundation Award (grantee)
1998 Wildlife Film Festival Best Animation Award (winner)
1998 Sundance Institute Writer's Lab (fellow)
1998 Student Academy Award (screened at the Museum of Modern Art in New York) (The Story of The Red Rose) (semi-finalist)
1997 Up-and-coming Latino Filmmaker Award, Showtime (The Story of The Red Rose)
(winner)
1996 Emmy Nomination for best in a craft: Sound (HBO's America Undercover: Prisoners of the war on drugs) (nominee)
1996 Student Academy Award (Palingenesis) (finalist)
SELECTED PRESS:
2014 Temporary Art Review December
2015 Knight Blog June
2015 Sundance Blog
2015 Animating Democracy
2015 Miami New Times, February
2016 Kat Bein Mastermind Honorable Mention
2015 Bas Fisher Invitational September • Announcing Juan Carlos Zaldivar's Shifting Nature: Web Bodies
2013 The Miami Herald, November 30 • Lydia Martin, Indulge magazine - Art Basel issue
2013 Miami New Times, November 3 • Hannah Sentenac, Heineken "Light Your Night" to Illuminate Art Basel
2014 ArtBurst, Carlos Ochoa
2014 Knight Arts Blog, January 28 • Anne Tschida, Art meshes with dance on film
2014 Knight Arts Blog, February 3 • Neil de la Flor, An interview with artist Juan Carlos Zaldivar
2014 The Miami Herald, February 10 • Rene Rodriguez, Miami filmmaking scene lures Sundance
2014 The Miami Herald, May 4 • Miami Light Project's Here & Now festival runs Thursday through May 17
2014 The Miami Herald, May 6 • Fernando Gonzalez, Here & Now begins TH at the Light Box @Goldman Warehouse
2014 The Miami Herald, May 13 •Here & Now 2014 Spotlights concept-driven performance pieces, Mia Leonin
2014 Knight Arts Blog, May 16 • Some fine art at Miami Light, Anne Tschida
CONTACT US FOR MORE PRESS